Sharp Objects is written by Gillian Flynn, and it was published in 2006 by Broadway Books. Since then, it has become a limited series on HBO (I need to finally bite the bullet and subscribe to HBO — if for no other reason, I need to see if the limited series is even an ounce as good as the book). Gillian Flynn is also the author of Gone Girl, Dark Places, and The Grownup (which is barely over 60 pages).
I can't speak for the other novels because I haven't read them, but I will tell you with 100% certainty that Sharp Objects is one of those rare novels that will keep you up at night.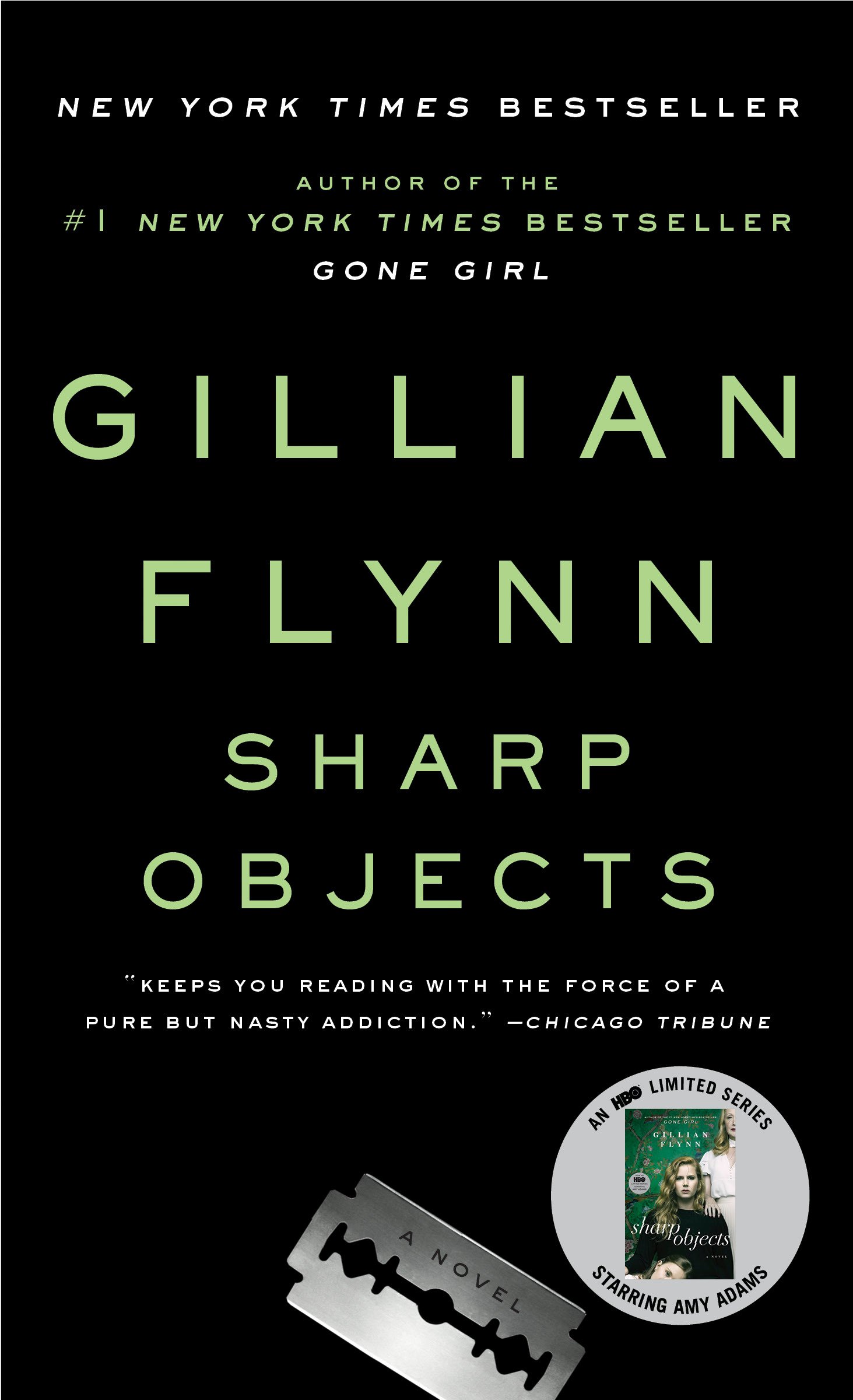 Genre
This is definitely filed under suspense + mystery/thriller.
The Plot
Readers are quickly introduced to the sleepy, small town of Wind Gap as well as the dysfunctional Preaker family. The novel begins in the city of Chicago where readers meet and immediately relate to Camille, a reporter for a Chicago newspaper who is assigned a story in her hometown of Wind Gap, TN.
Camille is tasked with reporting on the murder of two young girls who were not just strangled, but also had their teeth removed. The bodies were found; the teeth were not. Despite the bizarre nature of the crimes, it's almost an aside: Readers become more concerned with the dysfunction of the Preaker family than who actually committed the murders.
Gillian Flynn works her magic to keep her readers engaged in small town drama throughout Sharp Objects. The small town drama and gossip builds a dam that eventually bursts. By the last quarter of the novel, you probably will have guessed who didn't murder Natalie and Ann — but I doubt you can figure out who did murder the girls.
The resolution of the novel is calm and subtle. Some authors are gifted enough to gently guide the boat to shore; others come crashing in. Flynn is a skilled sailor.
Themes
Coming of age. Flynn focuses on a current murder investigation as well as Camille Preaker's small town escapades when she visits her hometown of Wind Gap. However, each character is developed through the details and secrets they kept as they grew up in a small down.
Power and corruption. Small town money is typically the foundation for greed and corruption. Adora, Camille's mother, inherited her money from the family slaughter house.
Survival. There are macro and micro survival themes throughout Sharp Objects. Camille tries to survive her stay in Wind Gap. The hands of her mother. The relationship with her sisters (one deceased, one living). The knives in the kitchen drawer.
Literary devices
Reminder that I have been through six years of higher education in English and literature. With that in mind, I have never read a novel that includes such a sharpened, skilled use of metaphors and similes. You will have a high definition image of the setting, characters, and pretty much everything. There are several times I caught myself thinking, "Oh — THAT is how I should describe that." The use of literary devices is one of my favorite parts of this novel.
Flynn uses a variety of foil characters in this work. Reading the negative actions of one character sheds light on the positive, or perhaps more negative, actions of another. On her own, Camille appears to be the one with mental health issues. However, when reflected off of other female characters in the book, it's easy to see that Camille is not the crazy one.
Readability
I like short chapters, and the chapters in Sharp Objects are short. The entire novel is written from the perspective of Camille, so it's easy to follow. Nothing pisses me off more than when authors write from the perspectives of ten different characters (I just can't seem to keep up).
Personal reaction
Anyone who knows me knows that I do not stay up late for any reason. It takes a very intriguing book to make me stay awake, and you bet I stayed awake late to finish Sharp Objects.
If you are a mother, you will question your parenting.
If you are a daughter, you will question your upbringing.
If you grew up in a small town, you will think back to the secrets and stories you never figured out.
If you didn't grow up in a small town, you will be mostly glad — but also slightly jealous — that you didn't.
Overall rating: 5/5
So, what are you waiting for? Get a hard copy or Kindle copy of Gillian Flynn's Sharp Objects and get yo' summer read on!
---
This post contains affiliate links. This means I may earn a small commission if you purchase something linked in this post.